Reward Programs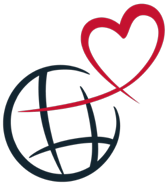 Let's start from the beginning.
"Reward programs" are a way for companies to build brand loyalty. When you use their products and services, you are awarded "points" that can be redeemed for more products and services. Airlines will sometimes refer to these points as "miles" or other terms and call them "frequent flyer" programs.
All airlines, hotel chains, car rental companies, and travel agencies (such as Expedia) award points.
You have to sign up for the reward programs. For example, to join Hawaiian Airlines, you'd go to their website and click "Join Now".
When you join, be sure to use your name as displayed on your passport, or you might be denied boarding on international flights.

Some credit card companies award points specific to an airline, hotel, etc., and some credit card companies handle the travel rewards themselves. Some credit cards can be churned to generate award points quickly.
These credit cards will offer a signup bonus of a large number of points, then one point for each dollar spent. The amount of the signup bonus may vary over time, so it pays to do a little research before deciding to get the card. Frequently, there is a minimum spending requirement to get the bonus, such as spending $1,000 in 90 days.
Note: Some airlines have restrictions on number of flights and seat available to be used with frequent flyer points. It pays to shop early (some airlines allow you to book 11 months in advance) and to be flexible.
Pro Tip: Both you and your spouse can apply for a credit card and can each receive the bonus points. In many cases, you can also sign up for a business card.
Need more points?
What if you don't have enough points for a trip? You can use their credit card and get one point for every dollar spent, or you can by points to top it off. The reward programs sometimes have promotions, selling points at a discounted rate.
Buying Points
We have bought points on a number of airlines, either to top-off because we don't quite have enough, or because it's cheaper to use points than pay for the tickets.
American Airlines sells points. I've listed what they offer at three breakpoints.
Cost Points Points/Dollar
$1,475 50,000 33.9
$2,950 100,000 33.9
$4,425 150,000 33.9
Throughout the year, American Airlines has sales; in October, they typically offer this deal:
Cost Points Points/Dollar
$1,475 72,500 49.1
$2,950 160,000 54.2
$4,425 250,000 56.5
Okay, let's book a roundtrip flight for one person, business class, from Los Angeles, California to Buenos Aires, Argentina in April. The best deal I can find is $3,897. The same trip uses 115,000 points, which can be bought for significantly less than $3,897.
The bottom line is to pay attention and do the math. 🙂
Disclaimer
We typically use hotel points for quick weekend trips or when staying at airport hotels for layovers. We find that renting houses or apartment from owners through such organizations as Airbnb, VRBO, and TripAdvisor to be preferable when staying more than a day or two. We do not rent cars often enough to redeem points. In actual use, we find that airline reward programs to be more useful than the other programs; therefore, the remainder of this blog will focus on airlines reward programs.
Lots of Information
I won't go into the details of collecting points; there are enough other blogs doing just that. Check out Boarding Area, which has dozens of bloggers, and Frequent Flyer Miles, a text-based, easy to read blog. The details of getting and using these credit cards are forever changing, and you would do well to investigate before jumping in. Caveat emptor when dealing with these bloggers' affiliate links for credit card offers. Some of the bloggers are notorious for offering deals that earn them the highest commission rather than offering their readers the best deals. Do your homework.
Code Share Programs
Many airlines "code share" or have partner airlines. That means you can collect points for one airlines but use them on a different airline. (And insider would say, "We're using Alaska points to fly on Delta metal.") There are large code sharing programs that make this easy for you, such as Miles & More, Oneworld, SkyTeam, and Star Alliance.
American Airlines
American Airlines is a major airline offering routes around the world.
You can find multiple credit card offers with signup bonus as high as 75,000 points.
Round-trips coach fares can be booked from San Diego to Dallas for 25,000 points.
American airlines is headquartered in Fort Worth, Texas, within the Dallas-Fort Worth metroplex. It is the world's largest airline when measured by fleet size, revenue, scheduled passenger-kilometers flown, and number of destinations served. American together with its regional partners operates an extensive international and domestic network with an average of nearly 6,700 flights per day to nearly 350 destinations in more than 50 countries
American operates out of ten hubs located in Dallas/Fort Worth, Charlotte, Chicago–O'Hare, Philadelphia, Miami, Phoenix–Sky Harbor, Washington, DC–National, Los Angeles, New York–JFK, and New York – LaGuardia.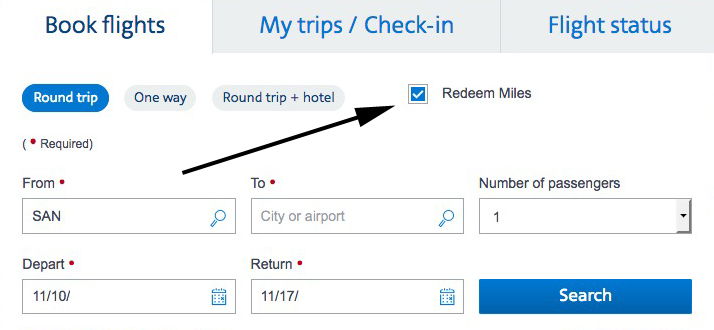 American Airlines is a founding member of Oneworld alliance, the third largest airline alliance in the world and coordinates fares, services, and scheduling with alliance partners British Airways, Iberia, and Finnair in the transatlantic market and with Cathay Pacific and Japan Airlines in the transpacific market. Regional service is operated by independent and subsidiary carriers under the brand name of American Eagle.
Alaska Airlines
Alaska Airlines is an up-and-coming airline, aggressively working to expand and attract flyers.
You can find credit card offers with a signup bonus of 30,000 points.
Round-trips coach fares can be booked from San Diego to Dallas coach class for 25,000 points.
Alaska Airlines is headquartered in Seattle, Washington. Alaska Airlines has flights to more than one hundred destinations in the contiguous United States, Alaska, Hawaii, Canada, Costa Rica, Cuba and Mexico. The airline is a major air carrier and, along with its sister airlines Horizon Air and Virgin America, is part of the Alaska Air Group.
The airline operates its largest hub at Seattle–Tacoma International Airport (known as Sea–Tac). It also operates secondary hubs in Anchorage, Los Angeles, Portland, San Francisco and focus cities at San Diego and San Jose.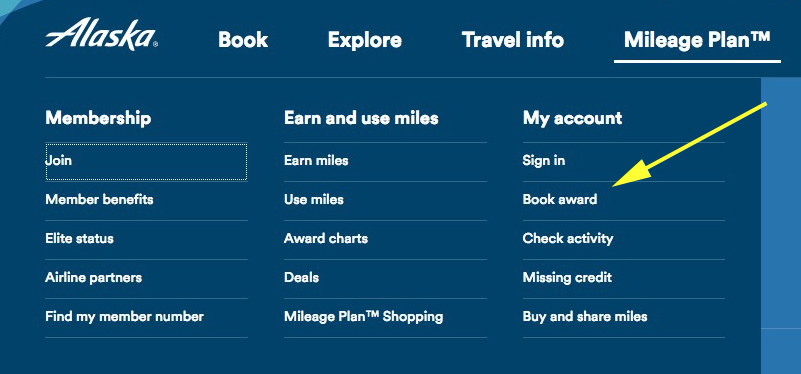 Alaska Airlines is not a member of any of the three major airline alliances. However, it has codeshare agreements with some members of Oneworld, such as American Airlines, British Airways, and LATAM Chile, and with some SkyTeam members, including Air France, KLM, and Korean Air.
Delta Airlines
Delta Airlines is a large airline serving six continents.
You can find credit card offers with a signup bonus of 40,000 points.
Round-trips coach fares can be booked from San Diego to Dallas coach class for 22,000 points.
Delta Air Lines is headquartered at Hartsfield–Jackson Atlanta International Airport in Atlanta, Georgia. The airline along with its subsidiaries and regional affiliates operate over 5,400 flights daily and serve an extensive domestic and international network that includes 319 destinations in 54 countries. Regional service is operated under the brand name Delta Connection.
One of the three remaining legacy carriers, Delta is the sixth-oldest operating airline by foundation date, and the oldest airline still operating in the United States.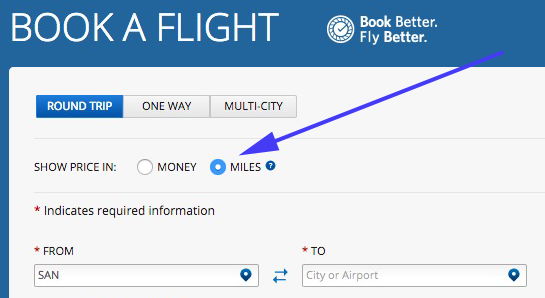 Delta is one of the four founding members of the SkyTeam airline alliance, and operates joint ventures with AeroMexico, Air France-KLM, Alitalia, Korean Air, Virgin Atlantic, and Virgin Australia.
Hawaiian Airlines
Hawaiian Airlines (HawaiianAirlines.com) is a favorite of ours. Hawaii is a wonderful destination, and you can't help being happy flying with them.
Hawaiian Airlines is the largest airline in Hawaii. It is the 8th largest commercial airline in the US, and is based in Honolulu, Hawaii. The airline operates its main hub at Daniel K. Inouye International Airport on the island of Oahu and a secondary hub out of Kahului Airport on Maui. Hawaiian Airlines operates flights to Asia, Hawaii, New Zealand, Australia and the United States Mainland.
You can find credit card offers with a signup bonus of 50,000 points.
Round-trips coach fares can be booked from San Diego to Honolulu for 35,000 points per person coach class.
Hawaiian Airlines flies to and from Hawaii — meaning, although Hawaiian flies from Los Angles to Honolulu and from Honolulu to Tokyo, they do not fly from Los Angeles to Tokyo with one fare; that would be two separate fares.
If you shop around, you can sometimes find companion discounts offered by credit card companies as signup bonuses on Hawaiian Airlines.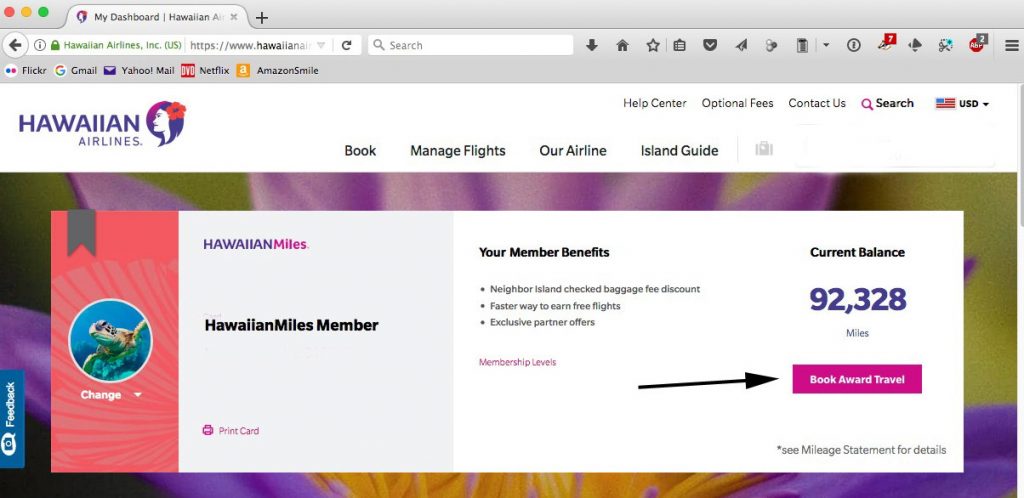 Hawaiian Airlines partners with All Nippon Airways, China Airlines, Korean Air, JetBlue, Virgin America, Virgin Atlantic, and Virgin Australia.
Southwest Airlines
Southwest Airlines is an upscale, low-cost airline.
You can find credit card offers with a signup bonus of 40,000 points.
Round-trips coach fares can be booked from San Diego to Dallas for just over 12,000 points.
Southwest Airlines Co. is a major U.S. airline and the world's largest low-cost carrier headquartered in Dallas, Texas.
Southwest Airlines operates more than 4,000 departures a day during peak travel season. As of 2014, it carried the most domestic passengers of any U.S. airline. It has scheduled services to 99 destinations in the United States and eight additional countries, with service to Turks & Caicos.

Southwest Airlines does not codeshare.
United Airlines
United Airlines is a major airline offering routes around the world, with an extensive presence in the Asia-Pacific region.
You can find credit card offers with a signup bonus of 50,000 points.
Round-trips coach fares can be booked from San Diego to Dallas for 25,000 points.
United Airlines is headquartered in Chicago, Illinois. It is the world's third-largest airline when measured by revenue, after American Airlines and Delta Air Lines. United operates a large domestic and international route network. Regional service is operated by independent carriers under the brand name United Express.
United operates out of nine airline hubs located in Chicago, Denver, Guam, Houston, Los Angeles, Newark, San Francisco, Tokyo and Washington, D.C. Chicago-O'Hare is United's largest hub, both in terms of passengers carried annually (16.8 million in 2016) and in terms of departures (181,488 in 2016).

United is a founding member of Star Alliance, the world's largest airline alliance.
Step-by-Step Example
Okay, let's go to Hawaii.
Open your browser and go to HawaiianAirlines.com. Login to your account (which you already have because you are collecting points).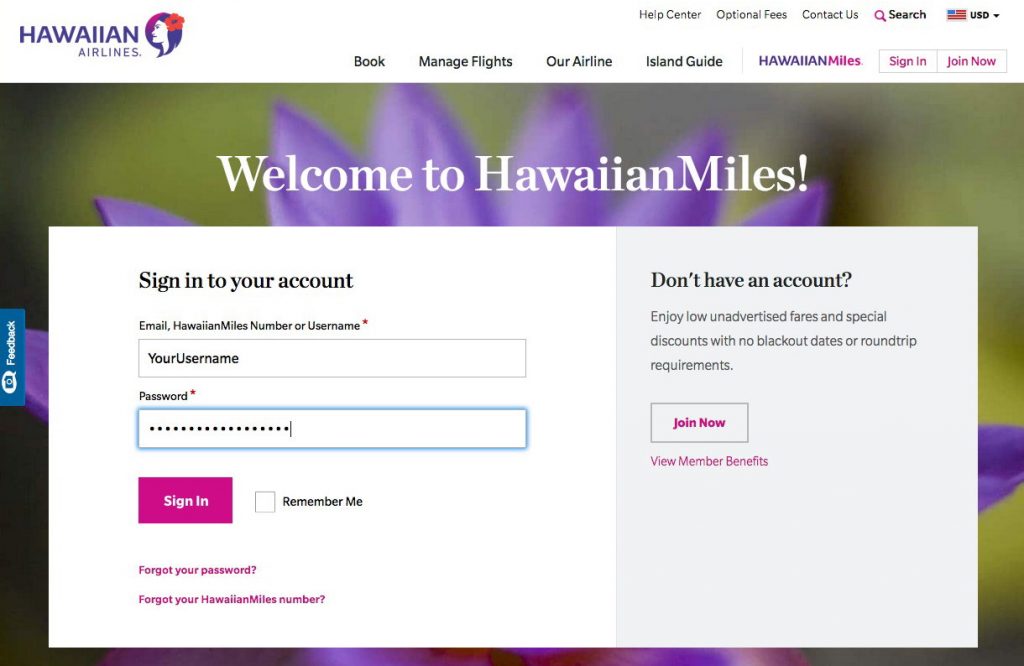 Click on "Book Award Travel".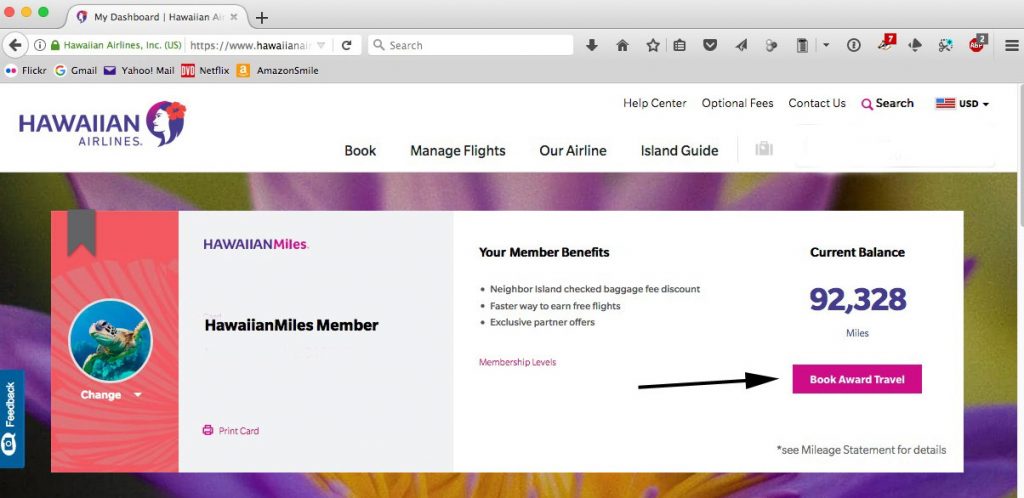 Enter the information and click "Search Flights". Be sure "Miles" is selected.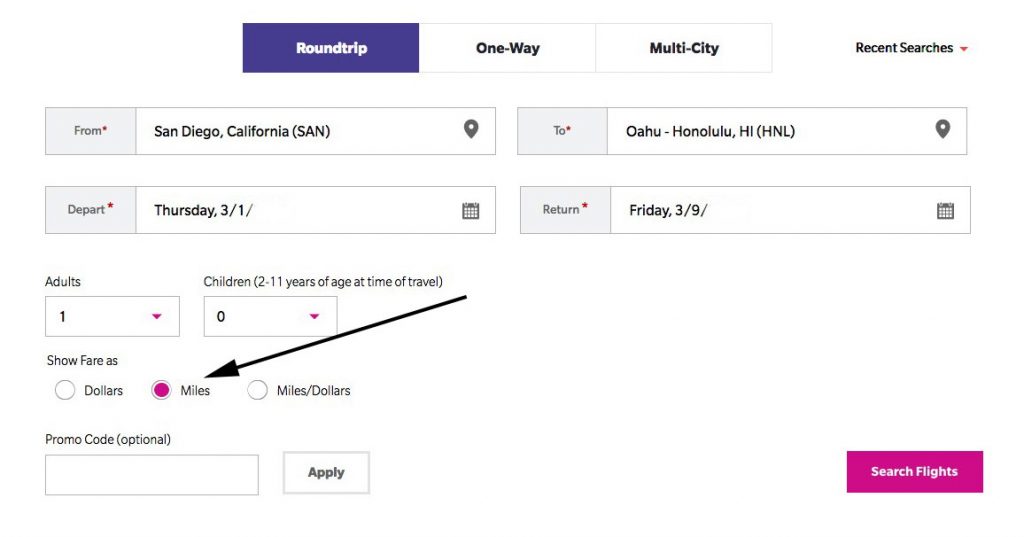 Select your departing flight.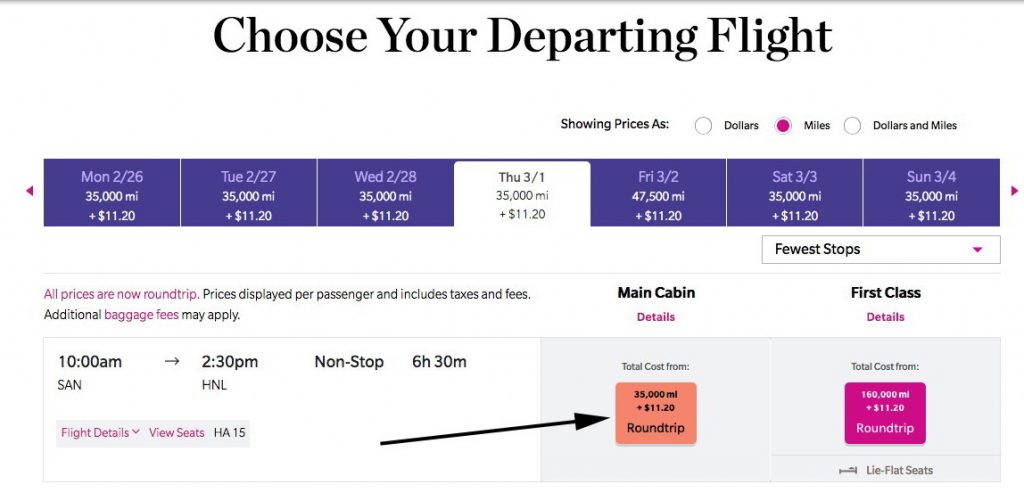 Select your return flight.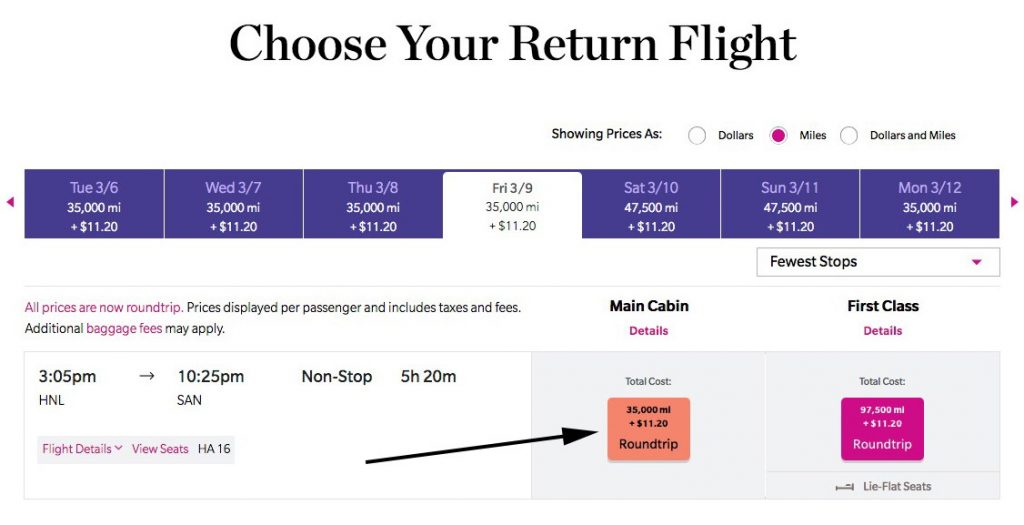 And that's it. You then continue as if you'd paid with money…which I can't show you because I don't want to actually book the flight. ????
Happy travels!