"Lamay, Peru is one of eight districts of the province Calca in Peru."
And that is all the internet has to say about this thriving metropolis of friendly and industrious folks who have carved out a paradise high in the Andes mountains.
Well, we are about to change that dearth of information.
Lamay
From Cusco Villas, where we are staying, it's an easy walk to the town. Now, you might be thinking, "Don't do it! You will get lost in the mountains!"
Nope. We are staying on CU-597 on the top right of this map. So, one road in, one road out. Easy.
You can see that the town is thoughtfully laid out in a grid. We will soon be there! What wonders await?
One of the first things we notice is that Lamay's Dark Knight has a slightly less-threatening Batmobile than we've come to expect.
We find a park, its entrance closed to visitors, celebrating Eusebio Corazao, famous, as you well know, for this theorem to find a solution to squaring a circle.
The Templo Santiago Apóstol de Lamay, also closed to visitors, is dedicated to the Christian's Saint James. Santiago is derived from Spanish santo (saint) combined with Yago (an old Spanish form of James).
And that's all we know about it.
By this point, you are probably wondering, "Where are all the people?" Well, we'll get to that soon.
This catches our eye. In all this strangeness, we see what appears to be a gaily decorated child's room. People are people, right?
The Streets of Lamay
We are not sure if Lamay is a planned community or if it grew spontaneously at the intersection of this valley and the Urubamba River. Either way, let's explore the road system.
Some of the streets are unimproved; however, sidewalks are thoughtfully provided.
Note the orange street sign. That is an enduring mystery.
There are advantages to this type of street covering. If the city needs to do road work, they simply move the concrete slabs.
We suppose that wealthier folks live here and can afford nicer streets.
On this street, we can see how the original leave-the-middle-unpaved concept was left in place to create a more modern idea of streets. The gutter might be intended to remove excess water from the street; however, the street does not tilt towards the gutter. <shrug>
You've probably noticed the woman standing near the VW Beetle in the previous photograph and these other Lamayans. Yes, they are little and, yes, they really dress like this.
The People of Lamay
There are almost 8,000,000,000 people in the world, and we have met *maybe* 8,000 of them in our lifetime, and perhaps call 80 of them acquaintances, and perhaps 8 of them are good friends. So, pretty much, we don't know much about the peoples of the world. We observe, we appreciate, but we can't say that we understand.
We see this woman carrying a child in a sling and walking on an uneven surface wearing sandals. Well, at least if she falls, it's not very far to the ground, amiright?
Lest you think slings and sandals are only for mothers, we find this person (sex unknown) attired similarly and, apparently, not carrying a small child in their sling.
No, they are not ninjas. This is durning the Great Covid Panic, and these nuns, realizing that their God will not protect them from diseases created by that self-same God, are wearing masks to challenge their God's will that the scourge of this pestilence be borne by the souls of the faithful.
So I took a photograph of them.
To our eye, a most unusual hat. It protects from the sun and from prying eyes. Kinda like a niqāb. Notice the people in the background and in the car. Yes, the zombie apocalypse is upon us even in Lamay.
Yes, this is a different woman, yet she has the same fashion sense.
This is not a bus stop. It is simply a bench where four people sit, leaving another to sit on the ledge and another to squat. They are not dressed traditionally, yet they still maintain that Lamay style.
Architecture of Lamay
It will come as no surprise that Lamay has a distinctive architectural style that embodies their unique lifestyle.
Look closely at the door behind the balcony. Those are not windows. Does the door really open? Why is there a roof(?) on the balcony? Why is there blue plastic?
The door really is covered with a metal grate. However, the door is painted to look like bricks with a receding perspective, for reasons, while the wall is plaster.
Now the door is designed to look like wood (or maybe is wood), while the wall is brick. These guys should switch doors, right?
We really just took a photograph of the cat, but the architecture leaves us with unanswered questions, so we include it.
Just to balance this section, there are buildings that are more in alignment with American-style houses. But they are surrounded with chain-link fences topped with barbwire, so we are not sure what's going on there.
If you fancy bridges, Lamay will not disappoint.
Shopping in Lamay
The Lamay Shopping District is one of the must-see adventures of any trip to Peru!
Here we see the bustling commercial district, the many shops displaying their wares and the staff servicing shoppers.
Chicken, groceries in general, hot dogs, beer…yup, that's all you need. Now if we can just get past Cerberus….
We've seen Shichinin no Samurai, and decide to not pass through the threshold.
We notice the red bag on the stick in the bucket. We have seen these elsewhere in Lamay. Perhaps they indicate that the store is open???
Nope. This, too, will remain an enduring mystery.
If you want soft drinks and a few types of fruit, then this store has everything!!
There is something about chicken feet that just makes your mouth water, right? Plus, they can be used as a back-scratcher.
Beer sales manager to marketing agent: "Okay, I'm selling to folks from Lamay. What do you have?"
Beer marketing agent: "Imagine two guys drinking beer together."
Sales manager: "Do they look like people from Lamay?"
Marketing agent: "No."
Sales manager: "Are they dressed like people from Lamay?"
Marketing agent: "No."
Sales manager: "Are they in a Lamay-style building? Are there any girls with them."
Marketing agent: <Pauses> There is a racing bike in the background….."
Sales manager: "SOLD!"
Across the River from Lamay
Across the river from Lamay is a small village that doesn't seem to be part of Lamay. It is on the road leading to Huchuy Qosqo, an Incan archaeological site.
Let's go visit!
They have built a puente vehicular for us. Did there used to be only a pedestrian bridge, or did you have to ford the river? We don't know.
This example of careless forestry is a tribute to the strength of Lamayan utility wires.
Okay, maybe these plants are not heavy and fall so frequently that no one is supposed to care.
We are beginning to think that these wires are, in fact, specifically built to support these plants.
We know the purple part is from rockslides, but we can not see the yellowish part very well. It appears to be man-made, but we are still too far away.
Above this barn, stable, townhouse, something, we can see more closely that the yellow seems to be grass or grain. That still does not explain why it is planted as it is. Perhaps it's a message to space aliens…? Just another mystery….
Okay, it's not really winter right now, but it's not spring either. We can get an idea of how high the spring flooding swells this mighty waterway from the height of the embankment. It's probably pretty cool when that happens. Note that, if you floated down the Urubamba river, you'd eventually arrive at the base of Huayna Picchu, the mountain that is frequently photographed behind Machu Picchu.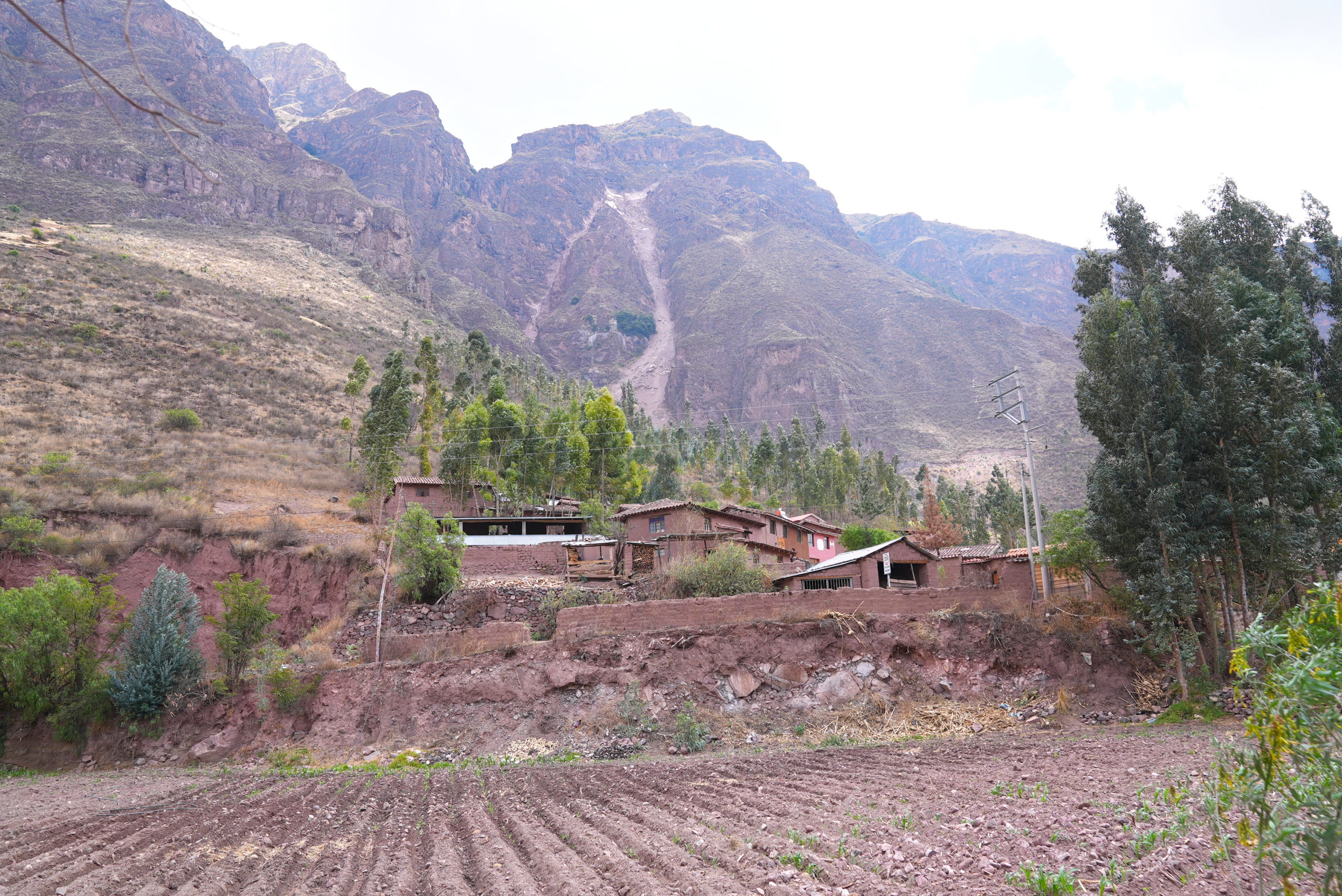 We approach to cluster of buildings, wondering why anyone would live here. Not that there is anything wrong with "here", but, why "here". Why not 500 meters up or down the river? What makes this spot special? We don't know.
We see a sign welcoming us to an eating establishment. That's a good sign.
Except for the sign, there is no indication of anything resembling a restaurant. What are we not understanding here in non-Lamay?
As in the town of Lamay, people are scarce or hidden. A lone woman walks down a side street. We can't even wave "hello". Sad.
We walk through <unknown>'s main street and eventually come to the end of town, marked by a wall, fence, and some refuse.
On the other side of the fence is a vast field of crops, being grown with modern methods and heavy irrigation.
Contrast that with the view on this side of the fence.
Of course, no community is complete without critters.
Lamay-zing.
Thus ends our article on fabulous, friendly, and funny Lamay.
Tune in next time when we explore Incas!
awa Travels Tip: Get off the tour bus, get rid of your phone, and go for a walk in a tiny town. Adventures await!