The Enchanted Floral Gardens of Kula
We decide to visit the Enchanted Floral Gardens of Kula, eight acres of tropical and subtropical plants endemic to the Hawaiian Islands and other islands worldwide.
I can't resist posing as a geisha. In a past life, perhaps… 😆
The gardens have more than a mile of paths and over 100 fruiting trees nestled on the slopes of Haleakala the 2500 ft. level.
For those of you interested, we've identified a handful of plants. Click on each one and learn a little bit more about Hawaii.
Blowhole!
We heard there were blowholes in the area, so we set out to find one.
Now, you might think that Maui is all verdant and green…but you'd be wrong.
It's a long hike down to the blowhole, but the rock is very rough, so our footing is secure.
As powerful waves hit the coast, water rushes into these crevices and bursts out in a high-pressure release. It is often accompanied by a loud noise and wide spray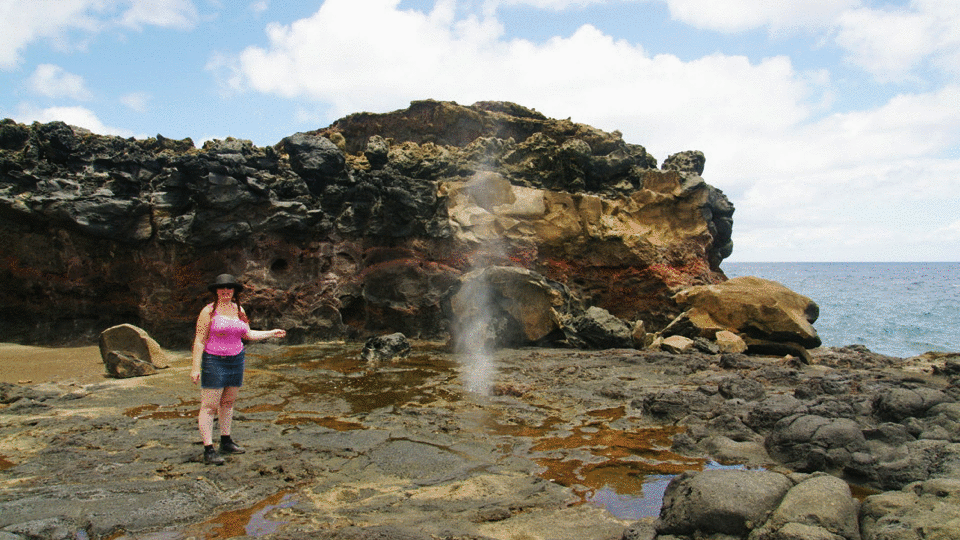 Hooray! We found an active, working blowhole!
Swimming Under a Waterfall
Our plan is to find a waterfall that flows into a pool and have some fun, so we're off, driving the winding highways and keeping our eyes open. As you probably know, Maui gets a lot of rain (it can be over 400 inches annually in some places (that's over 10 meters)), so it's not too long before we find what we are looking for.
The water looks cool, there's no one around — let's go!
The water is cool but not cold. Although it appears green, it's is actually clear; the plants growing on the bottom give it the color.
Hi, mom!
It's so inviting. We wish we could stay here all day. 🙂
The waterfall lightly thumps our muscles, relaxing and invigorating us.
Playing in the River
We found a river where we can hike up, then slowly float down the cascades and pools. Let's do it!!
The river is shallow; it's rare we can find a spot where the water is over our head.
Wheeeee! The rocks are covered in moss, and I slide right over them.
This is a little piece of paradise, hidden in paradise.
Maui == happy. 😎
I thought mermaids were just a myth!!
Although we find the river to be peaceful, not everyone shares our sentiment. This fellow obviously knows what's he's doing, both avoiding the rocks and finding a deep pool to land in.
Okay, enough serenity and calm.
Helicopter Ride
We have watched the safety video and are now onboard a helicopter from Sunshine Helicopters, enjoying the Molokai Deluxe Tour with our pilot, Steve. Steve is ex-military and flies the craft with marked precision and confidence.
Helicopters can go places nothing else can, and we see sights that amaze us in their beauty.
A seemingly endless parade of wonderful scenery slides past us.
Above the ocean, we have a view to the horizon and, in some places, to the ocean floor.
Steve finds a Manta ray and zooms in for a closer look. We can't be certain, but it's probably over five meters from wing-tip to wing-tip.
All too soon, the adventure has ended. Would we do it again? Of course!!
Haleakalā National Park at Sunset
Haleakalā is the highest point on Maui, and is part of Haleakalā National Park. We have decided to travel to the summit to watch the sunset.
It's cold here, and the wind is blowing. Fortunately, we have our leather jackets to keep us warm. The ground is lava, and barren of vegetation.
This volcanic crater isn't a typical volcanic crater. Rather, it was formed over eons as the result of erosion of the entire volcanic mountain top. Over this period of time, smaller lava flows back-filled the eroding valley, building up the floor of what is commonly called the Haleakala Crater. The cinder cones that dot the landscape here are the last of these most recent eruptions (and these individually have true volcanic craters.)
We are here to watch the sunset, but other happenings draw our attention. Here, a man pushes a large baby stroller along the crest of the crater.
This fellow is pedaling up the crater. Seems to us he would better enjoy a more gravity-assisted journey, but who are we to judge, right?
At any rate, we are here to enjoy the sunset, and we do.
Hawaiian Sunsets
We leave you with these memories we've shared, hoping to inspire you to find your own romance.
Aloha, Maui.
awa Travels Tip: There is beauty on the bottom of the ocean and on top of the mountains, in the water and in the air. Indulge!