Cuba has never been on our Vacation Bucket List, for no particular reason. Yes, we knew it was possible to travel there, even before the Cuban thaw—you fly to Mexico City, then to Havana; the Cubans stamp a slip of paper you keep in your passport, and you surrender it when you leave. The US government is none the wiser. But we seldom met folks from Cuba, and never considered it.
Then we were looking for ideas to escape the harsh winters of Southern California and discovered that flights to Cuba were inexpensive as compared to other Caribbean islands. So, we started to read and investigate, and it wasn't long before we were excited by what Cuba has to offer! Cuba is the largest island in the Caribbean sea, a founding member of the United Nations, one of a few extant Marxist–Leninist socialist states, a major exporter of nickel, birthplace of Desi Arnaz, and the perfect place to celebrate Hanukkah!
La Habana
La Habana was founded by the Spanish in the 1500s, and served as a major shipping port until contemporary times. It consists of Old Havana (a UNESCO World heritage Site), Vedado, and newer suburban districts. Sounds pretty cool, eh?
So we purchased our tickets on Delta Airlines, found an Airbnb, and took off on a Cuban adventure!
When we decided to travel to Cuba, many folks said, "I thought you couldn't go to Cuba." Wrong. All it takes is a passport, a Cuban Visa (USD50) and a ticket. 😎
After a short flight from Atlanta, Georgia, we see the coastline through the fog, then see our first glimpse of Cuba: Bahía de Cabañas, which is considered the most protected bay in the world.
It is near noon, yet the heavy fog gives the impression of early morning. From the aircraft's window, we see farmland mingled with forest, livestock, small villages, and roads devoid of vehicles.
We land at José Martí International Airport, and are a bit surprised at how rural it is, given that it is Cuba's main international and domestic gateway, and serves several million passengers each year. As a point of interest, private Cuban citizens are not allowed to own aircraft; all aircraft in Cuba belong to state-owned airlines or the military. Only government- and foreign-owned aircraft are allowed to use the facilities.
We pause to take a photograph of the aircraft, a Bombardier CRJ 900. Delta's configuration in Business Class is 1 x 2, and there are no overhead compartments to speak of so everyone's (including Business Class) carry-on luggage must be checked. ¯\_(ツ)_/¯
But, we are in CUBA, and we take a deep breath of the warm Caribbean air!
Vedado Airbnb
We are staying in an Airbnb in the city of Vedado, an urban neighborhood in Havana. The house is described as an iconic colonial "WOODEN HOUSE". It has three bedrooms and three bathrooms, spacious living quarters, and is owned and managed by Maria Antonia, who is a Superhost and certainly lived up to that reputation!
For a nominal fee, we have a home-cooked breakfast every morning. It typically consists of two eggs, bread, homemade jam, fresh-squeezed juice, pieces of fruit, and fried plantains. It is "all you can eat," because we can never eat all the food they serve us. 😀
The house is spacious and full of classic artifacts such as old telephones, phonographs, and books, plus nouveaux furniture designed by the host's son.
But there were two pictures that really drew our attention, both in the kitchen.
This is a painting by the Cuban artist Maykel Herrera Pacheco. It is titled "Dmension," and your guess is as good as ours as to what is happening here.
What was the inspiration for this picture? Did the girl pose for it knowing she'd be in a bowl, wearing a bird helmet, and stuck with forks? As with the other picture, you are free to make up your own background story for this…situation.
The front yard garden has a few critters, including this one, peering cautiously at us.
Cuban Cars
Cuba is noted for the plethora of classic cars still found in abundance. And it's not a myth (as least in Havana).
Our Airbnb Superhost arranged a ride for us from the airport to the house, and it's a classic Chevrolet.
We discover first, here, in our taxi, that most Cuban cars do not have seatbelts. Well, okay then. You wanted a 1950s-era car, you got a 1950s-era car!
Everywhere we look in Havana, there are classic cars. Plus vans, strange 2-wheeled taxis, and brightly-colored taxies.
If that were my car, I think I'd be a bit more car-ful about getting salt water in the interior. ¯\_(ツ)_/¯
The sunlight through the lens puts a yellow tint in the photograph, giving the cars a 1960s look.
Here is a short slideshow of some of the sedans in Havana. 😛
One day, we find a parking lot full of pink and red classic cars, and most of them convertibles. There are all buffed to a high-gloss, and we are careful not to touch them.
It turns out that the cars are for hire, either to drive you around town or, for a small tip, to allow you to pose. Note the bare feet: the drivers were very careful with their cars and would not let anyone stand on the upholstery with shoes.
There are a few cars we can't recognize. After all, there are cars here from Europe and Russia, and we scarcely know all the American models, much less foreign cars.
As far as we can tell, these are all Lada automobiles.
We see almost no pickup trucks, so when we spot this one, we quickly take a photograph. Someone who knows more about pickup truck makes and models can figure out what this is, because we can't.
We spot this school bus parked on the street. We don't know why there are students but no driver and why there are spider webs for decorations. Just another mystery here in Havana!
There are a number of motorcycles including, to our surprise, electric ones—very quiet on the road!
We see a few horse-and-buggies, mostly for tourists. Notice how they thoughtfully provide a dung-catcher for the horses?
To our surprise, there is very little traffic and the roads are well maintained. Near the end of our trip, we are told why this is so…but that's a story for another article!
Havana Harbor
Havana has a harbor, conveniently called Havana Harbor. It has the distinction of having the first recorded shark attack, which occurred in 1749 to British sailor Brook Watson. Beyond that, it is not very distinctive, being highly polluted and having very little shipping activity. ¯\_(ツ)_/¯
In fact, for the two weeks we are here in Havana, we see only one cargo ship leaving the port, and none entering. Nevertheless, the port has its beauty, and we capture a photograph of this brown pelican hunting for food.
Christo de La Habana looks over the harbor. We don't know what those other buildings are, but anything that stately was built in the 1940s and 1950s.
The Malecón
The Malecón (officially Avenida de Maceo) is a broad esplanade, roadway, and seawall that stretches for 8 km along the coast in Havana, Cuba, from the mouth of Havana Harbor in Old Havana, along the north side of the Centro Habana neighborhood and the Vedado neighborhood, ending at the mouth of the Almendares River.
According to the internet, the Malecón is a hotspot for prostitution in Cuba by men and women. Sadly, we see no evidence of this. 😆
The avenue is largely empty. On one side is a sidewalk which frequently spays a mist of seawater on strollers and joggers, and the other side is studded with old buildings, statues, and empty fountains.
There is no breakwater off the shore and the seawall is low, so when even a small storm approaches, the water crashes over the barrier and on to the avenue. We are told by locals that, during heavy rains and hurricanes, the salt was flows for many blocks towards the city.
You can see that the weather is not unpleasant, yet the waves still crash over the wall. There are private security guard admonishing people to stay away from the seawall and directing cars to take a different route. We are getting a little wet, but the sun is setting and we are enjoying the show.
The hole in the lower right is a manhole cover for a sewer that connects directly to the sea. We don't know if the cover was removed deliberately or if the sea lifted it. At any rate, when a wave rolls in, we are treated to a geyser.
No, we are not tempted to get anywhere near this exploding water.
We find a spot to climb down near the water to get a more intimate photograph. Despite the weather, the Caribbean Sea still has a unique charm.
But on other days, the sea is calm, and the local Cubans relax on the seawall, talking and visiting with friends.
Our Airbnb is only a few kilometers from the Malecón, and more than once we walk to the seawall to enjoy the Cuban evening.
And one of the best part of Hanukkah in La Habana is that it's always warm, even in the evening. 😀
Telephones in Cuba
Cuba has an interesting telephone system. And by interesting, I mean weird.
We brought to Cuba an iPhone 9, an iPhone 6, and an iPhone 4 (for various reasons). Only the iPhone 4 could connect to Cuba's telephone system; the other two simply said, No signal.
For most Cubans, they don't even have that. They must pay for a card that gives them temporary access and only at certain locations. That's why you'll see groups of people clustered together on their cell phones.
Even the Sisters of the Sacred Jesus must leave the sanctity of the convent to text their BFFs.
We don't know enough about telephone to know what's going on, but, on the plus side, we see almost no one walking around with their face to the ground, staring obliviously at their phone while the world speeds recklessly past them.
Cuban Cigars
Cuba is known for Cuban cigars, and we expect we'd spend most of our time in Havana dodging the acrid smell of burning tobacco. Wrong.
In fact, Cubans appear to be fairly healthy, and we counted only 10 Cubans smoking cigars (not counting the characters who hang around the tourist areas and get the photographs taken for money). And we saw almost no one smoking cigarettes (except for tourists).
But, we are here, and we are going to a tobacco plantation!
We like to rent our own cars when we travel, but in Cuba, that's not how it is done. We could find no reliable car rental companies online before our trip, and our Airbnb host told us, "Cuba doesn't have cars to rent. You must rent a driver." So, she arranges a driver for us for the day and we take off for Viñales, a small town in the west of Cuba. We don't know where exactly we are going, but life is an adventure, right?
After about three hours of driving (yikes!), we arrive at the tobacco plantation, its parking lot filled with other cars that were hired for the day.
Without much fanfare, we are ushered into a small room with a bar (that sells no beer!) and given a cigar. Notice that the tip of the cigar is shiny: Cuban's dip the tip of the cigar in honey to soften and sweeten the flavor of the smoke. Sweet!
To get the tobacco burning, hold the shaft firmly in your hand, place your lips gently on the tip, and suck steadily and confidently. Do not be startled when the cigar's rich flavor enters your mouth and throat; it will be warm and delightful!
Now that the cigar is lit, it must be sucked such that the tobacco leaves stay smoldering—but not so strongly that the tobacco smoke is inhaled into the sucker's lungs. A series of shallow, firm sucks does the trick.
When done correctly, the smoker is rewarded with a cloud of tobacco smoke and the pleasure of knowing a new skill has been mastered.
These lovely ladies have done pretty-much everything wrong according one Zino Davidoff, but I postulate that Mr. Davidoff has never been to Cuba.
How to Roll a Cuban Cigar
Our guide tells us that there are 52 steps to creating a Cuban cigar. He does not enumerate them, but instead shows us how to take a bunch of leave and create a cigar.
First, you take a suitable amount of leaves and pile them together. Yes, that's not a lot of information, but he has been doing this for so long, he was able to gather just the right amount of foliage and pile it just so.
Roll the leaves to form them into a sausage-like shape, similar to the shape of a cigar. Notice the two large leaves to his left; those leaves are from the bottom of the plant, and they are used to wrap the other leaves.
Tie off one end, and cut the other end with a strange looking knife.
The final leaf is flattened and stretched, then rolled tightly around the tube of leaves shown in the previous photograph.
The ends of the cigar are trimmed to give it a uniform length and girth.
And, just like that, you have a genuine bona-fide Cuban cigar. 😎
Now it time to enjoy our cigars and drink sweet alcoholic beverages from fresh coconuts. Our guide tells us many things, including the Cuban taxation rate: the government takes (not buys) 90% of their crop to be sold as official Cuban cigars, and they live off the proceeds of the remaining 10%. Yikes!
What do all these coconuts come from? Lucky for us and for Cuba, the National Tree of Cuba is the royal palm, a.k.a., Roystonea regia, and it is chock-full of these delicious drupes.
Cigar smokers posture themselves to be sophisticated and well-mannered, but I guess you can't blame a guy for trying to blow smoke rings to impress his favorite girl.
We walk around the ground to see what we can see, and what we see is tobacco. Young tobacco plants, middle-age tobacco plants, and mature tobacco plants.
We follow a path and, after a short time, reach a spot where we can see the beautiful Cuban forest. We pause for a while to enjoy the serenity. One of the pleasant surprises in Cuba is the absence of mosquitoes and many other flying critters at this time of year, and this forest is no exception. It might be different farther in, but around the tobacco plantation (and also in Havana), the air is insect-free.
Back at the plantation, we find a table to get out of the sun, and our driver kindly asks if we want him to take our photograph. 🙂
Hotel Horizontes Los Jazmines
To step backward in time but keep in place the continuity of this article, we have one pitstop on our way to the tobacco plantation, and that is at the lovely Hotel Horizontes Los Jazmines.
We don't go in the hotel, so we have no idea if the carpet matches the drapes.
The hotel certainly lives up to its name. The view is the best we have seen. We wish we had time enough to explore the jungle and farmlands below.
If you look closely, you can see farmers plowing a field, the plows being pulled by oxen.
But back at the hotel, the party rages. 😆
Palenque De Los Cimarrones
Our Airbnb host told us to visit the Palenque De Los Cimarrones, which is near the tobacco plantation. We did not know what it was and no longer had the instant though untrustworthy internet at our disposal, so naturally we agreed.
It appears to be a restaurant under an overhang—not what we are expecting. However, there is a large black sign with some explanation, the left side in Spanish and the right side in English.
Okay, so apparently this is a place where runaway slaves went. Or it represents such a place. Or it is a tourist trap. ¯\_(ツ)_/¯ At any rate, we are here, and here we go!
Passing through the restaurant, we enter a tunnel under the mountain. It is well lighted and the floor is slightly damp. It's spacious enough that there's no feeling of claustrophobia.
We see small dark spots on the cave's ceiling (if that's the right word) and use the flash to take a photographs. Yup, they are bats, and your guess is as good as mine as to the species.
We spot some type of viper belonging to the species concretus snakus.
Okay, we are in a cave. Let's take some photographs of ourselves!
It's dark in this recess, so I have to feel along the wall until I reach the end. It's only with the camera's flash that we can see how unintimidating this crevice really is.
We balance the camera precariously on a ledge and take a quick selfie. Okay, on with the adventure.
When we emerge from the cave, we pass some unimpressive touristy displays, but are awed by the beautiful jungle. You could see why fleeing slaves, or non-fleeing slaves, or just about anyone would enjoy living here.
This grove of trees seems too symmetrical to be natural, but what do I know? Perhaps there is one tree that drops its coconut at just the right distance, and that tree grows up to drop its coconuts at just the right distance, and that tree…well, you get it.
There are buildings here with murals. You can decide for yourself what this one means.
Most of the area is geared towards selling food and drink to tourists. I'm not sure what this has to do with escaping slaves, but, like I said, what do I know?
Okay, you might think that we are treating lightly the whole issue of slavery and freedom and such, but, you see, this secret hiding place for runaway slaves that must be entered via a cave also has an entry broad enough to accommodate a two-lane road with large busses. Pretty obvious that this is just a tourist trap. A lovely one, no doubt, but we remain dubious as to any historical accuracy.
Mural De La Prehistoria
The last stop on our day trip is to the Mural de la Prehistoria, which translates to "mural of prehistory." We are assured it is quite spectacular, and we are ready for anything!
At the beginning of the driveway leaving to the mural, we see this sign. Oh, what wonders will we see?
Notice the two prices on the sign. On the left is for Cubans, who pay with cups ("kups") and the right is for tourist, who pay with cucs ("kuks"). There are about 25 cups to 1 cucs, so the locals get quite a good deal. On the other hand, the average Cuban earns about $32 monthly, so they probably don't spend money on non-essentials.
We park and walk towards the mural, reassured that we won't be thirsty or hungry.
On the left, there appears to be a couple of ammonites, which lived from the Devonian period (419.2 million years ago) until the Cretaceous-Paleogene extinction event (about 66 million years ago). Next to them are a trio of dinosaurs, perhaps Brontosaurus or Apatosaurus, two identical but differently named dinosaurs (according to some sources) that lived during the Late Jurassic and Early Cretaceous periods (between 147 million and 137 million years ago). To the right of them appear to be sloths, which lived from the Early Pliocene through the end of the Pleistocene (between 5.3 million and 11,700 years ago). And at the far right are a depiction of some species from the subtribe Hominina , which includes the genus Homo, which existed between two million and 5,000 years ago.
Note that we need the "5,000 years ago" cut-off date because this is the mural of PREhistory, which doesn't really make sense because everything that already happened is history so there can be no "before" history, but I'm taking this to mean before written history. Yes, it's confusing, I know.
Let's take a closer look.
This one confused me until I got closer. There are two ammonites shell-butting each other. A game of manly dominance, or simply watery turbulence? Sadly, the truth is lost in prehistory.
Here we see the ropes and chairs that support the painters. We are a bit surprised because we did not expect this to be a work-in-progress. Maybe, when we revisit in years distant, even more prehistory will be revealed to us!
See the lines on the rock that are not painted? It appears to us that the rock has natural striations and the paint brush or paint roller can not reach the inner crevice. However, the ropes show that same striation. So what's going on with that?
The important part of this photograph is the small goat to the right of us, near the base of the rock. It looks scraggly, and it is.
Lastly, we include two flags (and a blurry green bird flying by) displayed proudly at the Mural de la Prehistoria. One is the flag of the noble Cuban people, and the other is an advertisement for Palmares Empresa Extrahotelera, "The Company Extrahotelera Palmares S.A. offers to the national and international tourism a number of offers in recreational and gastronomic services, where it puts the history, culture and nature of Cuba within reach of its clients." Which, I guess, includes the Mural de la Prehistoria.
Cuban People
Before leaving for Cuba, we wondered what to expect from Cubans in terms of fashion and style. We had vague expectation of colorful, happy people enjoying the lazy Caribbean winter, as shown in this photograph of a musician hoping to attract tips from rich tourists.
So, we researched Cuban fashion and clothing on the internet. We read that Cubans wear brightly colored clothes made of loose, light cotton, that Cubans don't show their midriffs, that it's not uncommon for women to be braless in the warm island sun, that, well, all kinds of nonsense. So we decided to take photographs of Cubans being Cuban, and you can decide for yourself.
Boys and young men play baseball in a courtyard. Notice that a few of the players are wearing sandals. Running with sandals is a skill I have never mastered.
These skaters dress no differently than anyone who lives on a warm Caribbean island. And, like most skaters we see in San Diego, they don't wear any protective gear.
Okay, these are probably all tourists, but when someone gives me the stink-eye, I feel obliged to let their opinion be known.
Cubans must queue for almost everything, so a good sign that you are photographing locals is to find people waiting. The shop is certain to open at some time, right?
From what we can tell, the gentleman on the left is a tourist and the other three folks are locals. Notice that the "new worn-out jeans" fashion has made its way to Cuba.
For the entire two weeks we are here, we see only two people dressed like this. Is she a nurse, a magical nanny, a refuge from Miami's faux riche, or just a woman in white? We will never know.
With a speaker playing music from a laptop and friends videoing on tiny phones, a young lady performs a dance routine, including a cartwheel.
Finally, we see Cubans dressed in what we expect: colorful, loose-fitting cotton clothing. They must watch a lot of old movies.
These two fellows look like workers anywhere. You do your job and when it's time to take a break, you find a shady spot and chow down on some delicious food.
At the panaderia especializada, the bakers dress in white with white aprons, just as you'd expect.
More than once, we see Cubans looking out a window. Are they forlorn, happy, bored, grateful…? We have never stood or sat by a window and just looked out, so there is no way for us to even conjecture.
Only Cubans take buses, so when we see folks waiting for a bus, we know we are getting the real deal. Jeans and tee-shirts seem to be a common garb.
Even more folks waiting for a bus show the variety of clothing worn by Cubans. It could be a bus stop in any US city.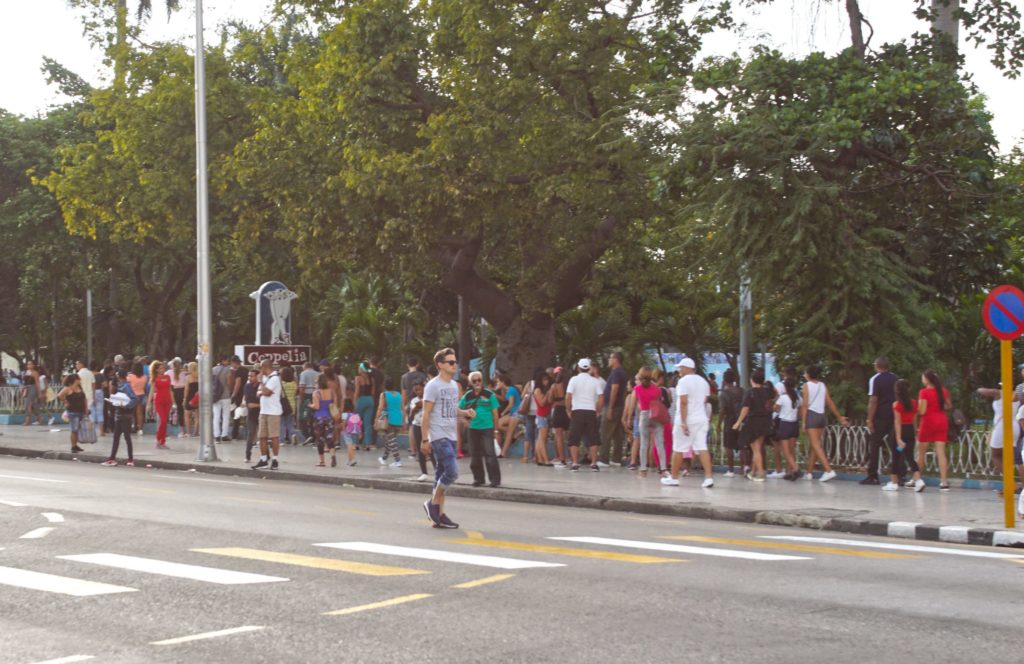 The Cubans in this photograph are waiting for ice cream at Coppelia. "When business started in 1966, it ran with an impressive count of 26 flavors and 25 combinations. Today, lines are generally long and the supply and selection of flavors is scarce, with usually only one or two available at any given time." In fact, there are four entrances to Coppelia, and they all have lines this long. Guards with headsets communicate with each other to allow someone in only when someone else leaves.
What we conclude is that there is nothing quintessential or definitive about Cuban fashion. We see no one dressed very formally (except on Sunday morning) and no one dressed like a street person.
Hanukkah in La Habana
Havana has much more than we've shown so far.
There is art, theatre, museums, cemeteries, food—we are just getting started! Stay tuned!
But what about Hanukkah?
Although Judaism is tolerated in Cuba, there aren't very many Jews. "More than 24,000 Jews lived in Cuba in 1924, and more immigrated to the country in the 1930s. But during and after the 1959 communist revolution, 94% of the Jews left for the United States and other countries. In 2007 an estimated 1,500 known Jewish Cubans remained in the country, overwhelmingly located in Havana, occasionally called Jubans as a portmanteau of the English word "Jew" and Cuban. Several hundred have since emigrated to Israel."
So, we go to Beth Shalom Temple on Hanukkah, to celebrate the Festival of Lights with the Jubans. Although Hanukkah has major cultural significance in the USA, it is a relatively minor religious holiday in strictly religious terms, and the Jubans celebrated it without any particular formality, but more as a family get-together.
We leave you with this photograph of the mouth of the Rio Almendares, wishing you wonderful adventures during the holiday season.
awa Travels Tip: Cuba is…different. It is a bit of culture shock to immerse yourself in a Marxist–Leninist socialist state, an anachronism from the Cold War era. We learned first-hand about Cuba, the Cuban people, and ourselves, and, or course, that is why we travel.