As you might remember, we are in Barbados for our birthday, and we continue our adventures!
It's no secret that Barbados is an island, and most islands are surrounded by boats. Let's take a look.
Yes, the west coast of Barbados really does look like this just after sunset.
Boats carrying tourists regularly ply these waters, as seen here on a catamaran piloted by the friendly folks at El Tigre Catamaran Sailing Cruises. They might go somewhere fun, but the people aboard always seem bored, just marking time until they arrive.
These fellows slowly cast a net into the water, allowing it to trail behind the boat. Then the swimmers jump in and splash, driving the fish (presumably) towards the net. Then it's a heave-ho as they all help to pull in the net and collect their randomized catch of the day.
The closest island to Barbados is about 100 miles away, so we guess this boat came from somewhere on the island and is going somewhere else. But…the only harbor in Barbados is in Bridgetown, so this boat's origin is anybody's guess.
One foggy morning we see this boat motoring past our house. It's not a fishing boat, tourist boat, working boat, or pleasure boat. Nonetheless, wherever he is going, he's going there fast!
This boat seems like, if too many party people went topside, there would be listing issues. Well, I guess you can fall only as far as the water.
Nothing like the peace and quiet of your own boat as you paddle slowly through the waters of Barbados.
Of course, that's just a small sample. There are lots and lots of boats in Barbados!
Bridgetown
Bridgetown is the capital and largest city of Barbados. According to the internet, "Bridgetown is the only city outside the present United States that George Washington visited. (George Washington House, the house where he stayed, is included within the boundaries of the Garrison Historic Area.)" Which means that George sailed from America all the way to Barbados without stopping in Antigua and Barbuda, the Bahamas, Belize, Aruba, Bonaire, Sint Eustatius, Saba, Curaçao, Saint Martin, Sint Maarten, Guadeloupe, Martinique, Saint Barthélemy, Dominican Republic, Haiti, Puerto Rico, United States Virgin Islands, British Virgin Islands, Anguilla, Cayman Islands, Montserrat, Turks and Caicos Islands, Cuba, Dominica, Jamaica, Grenada, San Andrés and Providencia, Nueva Esparta, Trinidad and Tobago, Saint Kitts and Nevis, Saint Lucia, or Saint Vincent and the Grenadines. I guess he was a man who knew what he wanted.
According to the internet: "Although the island was totally abandoned or uninhabited when the British arrived, one of the few traces of indigenous pre-existence on the island was a primitive bridge constructed over the Careenage area's swamp at the centre of Bridgetown. It was thought that this bridge was created by a people indigenous to the Caribbean known as the Tainos. Upon finding the structure, the British settlers began to call what is now the Bridgetown area Indian Bridge. Scholars widely believe that the Tainos were driven from Barbados to the neighbouring island of Saint Lucia, during an invasion by the Kalinagos, another indigenous people of the region. Eventually after 1654 when a new bridge was constructed over the Careenage by the British, the area became known as The Town of Saint Michael and later as Bridgetown, after Sir Tobias Bridge."
Sir Bridge would be proud to have such a nice house, but the real hero of Barbados is Banks Beer, founded in 1961 in St. Michael.
We don't know if this is a bar or just the home of a very enthusiastic Banks Beer drinker, but we admire the dedication to this ancient and honored drink.
In the USA, a bottle of beer is 355 ml. In Barbados, a bottle of Banks Beer is 275 ml. So it seems like you are pounding down a lot more beer than you really are.
As long on we are on the subject of Banks Beer, let's take a short detour from Bridgetown. Within walking distance of our house is Wendy's Sports Bar, seemingly the actual Home of Football. And it sells Banks Beer.
My guess is that the Banks beer company provides all these wonderful decorations, subtly reminding us to drink Banks Beer.
We enjoy an island lunch and a couple of bottles of Banks Beer, surrounded by posters of Banks Beer and a photograph of Banks Beer drinkers above us. Wait a minute! What the hell, dude?
"Yo, Randy! Could you NOT hold your wiener for just a few seconds while we take the photo? Damn it, Randy…."
Okay, I digress. Let's get back to Bridgetown.
Some Bridgetown women are redheads. Fact.
Take three beautiful island women and put them in netting, and you have fashion! Actually, we take photographs like this because we can see NO ONE dressed even a tiny bit like this. Too bad, eh…?
No, you are more likely to see women dressed in niqabs than in fishing attire.
The Miller Brothers have remarkably similar physiques, including triangular pectoral muscles. I guess it's a good thing they are the same height.
We walk down the street a few meters and take a photograph of what's above the Miller Building. Besides the topless, armless statue, is that a golden…cage? Screen? Radiator? The Miller Brothers are silent in this regard.
We considered seeing what they have to offer, but we are already in the club. 😎
It looks like this place is offering universal kisses. Well, maybe. But there is more. For example, "through a chain of prayer", you can achieve financial success on Monday. Or, let's say you want to be the first president of Mexico, but that already happened; Saturday at 7am and 10am will take care of that mess. Jesus Christ is, indeed, the Lord.
The Agapey Chocolate Factory offers interactive guided tours featuring tasting dark chocolate, tasting Barbadian Plantation Reserve cane sugar, learning about chocolate origins and history, and seeing the rare bean to bar process. Psych! They stopped doing tours, for reasons. Still, we purchase some island chocolate and indulge our fancies.
You, too, can learn interesting fact about chocolate!
According to the Internet, "the Chamberlain Bridge is a bridge in Bridgetown." Okay, then. On a bit more interesting note: "In 1872, it was a swing bridge across the marine inlet channel of the inner basin of the Careenage (Constitution River) at Carlisle Bay. The outmoded steel structure was dismantled and rebuilt in 2005–2006 as a lifting bridge with the state-of the-art modern technology of an all-composite single-leaf bascule design. This design is a counterweighted bridge span that pivots upward, permitting pleasure craft to pass through an inlet channel. The bridge was built using fibre-reinforced plastic (FRP), which is lighter, long lasting and non-corrosive."
On both sides of the archway are plaques displaying the National Pledge of Barbados, which goes something like this: I pledge allegiance to my country Barbados and to my flag, to uphold and defend their honour, and by my living to do credit to my nation wherever I go.
Okay, but zoom in to the Happy Hour Sign: Banks Beer 3 for $12.00. Their happy hour is a rip-off. So much for being a credit to my nation, eh?
The most interesting thing about the Parliament Buildings is the wikipedia article.
"The Tower located in the west wing can be seen from several vantage points around Bridgetown and is complemented by a four faced clock on each side." I think it's a one-faced clock on each side.
"The Barbadian flag flying triumphantly on top of it." This isn't quite a sentence, but still, "triumphantly"? Was there a battle between flags and the Barbadian flag won?
"A Public Buildings Erection Committee was appointed by the Speaker of the Assembly…" I mean, who wouldn't want to be a member of the Erection Committee?
"Another notable feature of the building itself is many of the windows of the buildings have louvered shutters for blocking out direct-sun light." A notable feature, indeed!
According to Barbados.org, "This cenotaph has a plaque listing the names of those Barbadians who died during World War II." The dates on the monument indicate otherwise. It also says, "The Cenotaph is an obelisk – a tall, narrow four sided monument – however it does not have a pyramid-like shape at the top which is common to other famous obelisks located in Egypt, Rome and Washington DC." Maybe the author is thinking of a different cenotaph…?
Swan street, Marhill Street Public Market, and other areas in central Bridgetown are great places to find bargains, especially if you like brightly colored clothing.
Even though Barbados is famous for Mount Gay rum, don't be mounting your own gay; as of the date is article is being written, "Homosexual acts are illegal (regardless of whether they were consensual and done in private) in Barbados, with a life sentence."
Yikes!
Driving
When driving on the left side of the road, the most important rule is this: follow the car in front of you. The second is this: it is WAY easier to make a left turn than a right turn. Plan accordingly.
As of the date is article is being written, there are no laws against driving while drunk in Barbados. However, it would be really, really stupid. There are only about three roads on the island that are this straight and this wide, and the roundabouts are crazy. Typically, I have to have a beer AFTER driving just to calm down. Fact.
The weird part is that, when I'm in the passenger's seat, I can't relax because I feel like I should be controlling the vehicle.
Bajans are very patient drivers. The only time they honk is when there is real danger. The "H" on the license plate tells them we are tourists, so they are even more patient with us.
When there are no other cars around, driving is fun!
Roadwork
Roads need to be fixed, even in Barbados.
This is a road in our neighborhood. Unfortunately, it is not the road we live on.
No, this is where we are staying, taken from an upstairs window. Unfortunately, we are here while they are laying new pipes and repaving the surface. And sawing through planks of wood while essentially barefoot.
This road is straight and wide for Barbados. Still, the truck and the bus, driving slowly past each other, make contact. No casualties, but the bus does get a nice big scratch along the side.
The white car in the lower left is our rental. The workers would always cover the trench for us so we could come and go. Yup, Bajans are some of the friendliest people we've come across on our travels.
Rain
Every year, Barbados gets around 50 inches of rain. That's about from your feet to your ribs.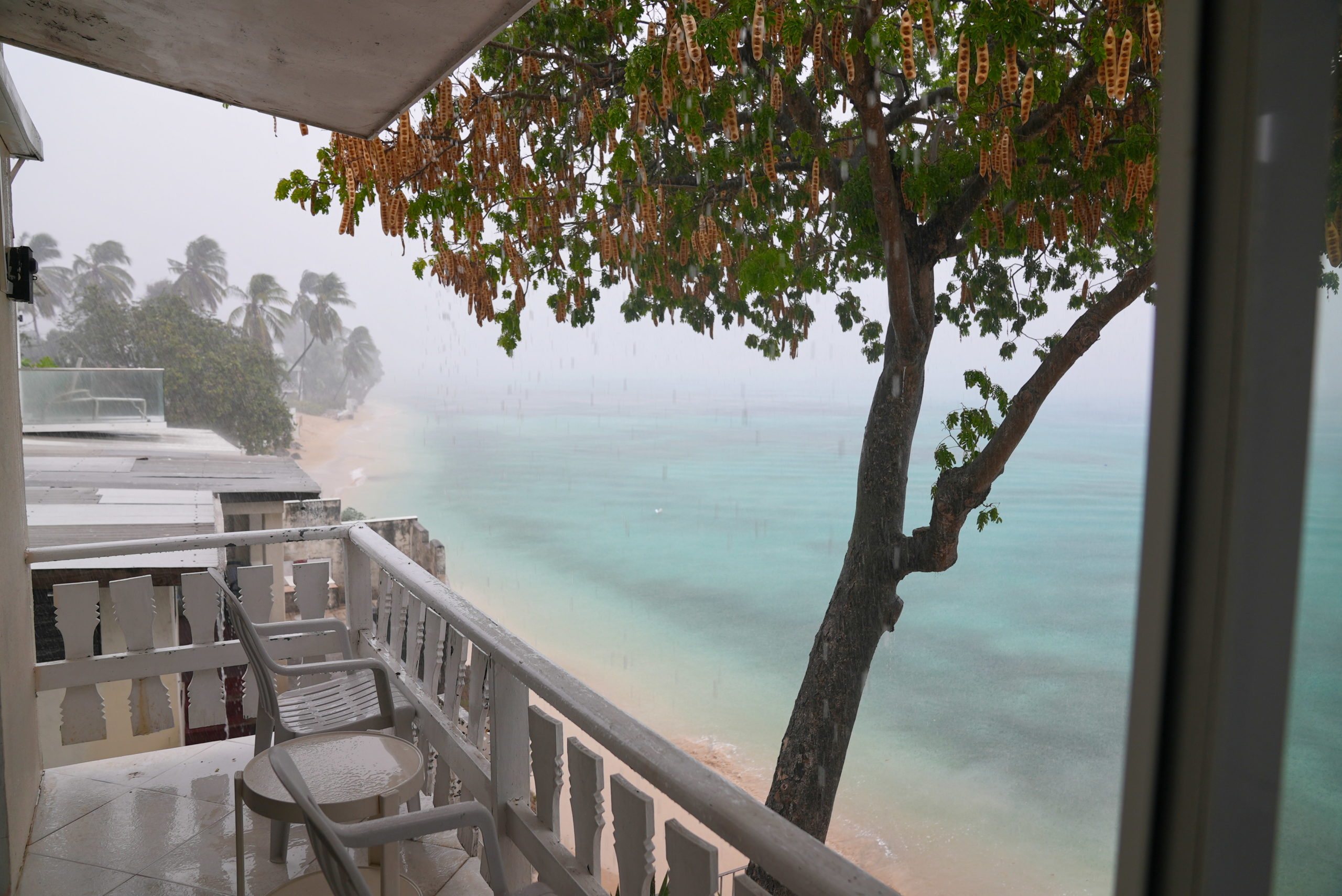 Yup, rain's a comin' down now.
It's kind of pretty, especially because we are safe and dry indoors.
This is what it looks like, street-side. You are probably wondering where all the water goes. See the blue barrel? Just behind it is a trench that runs from the road to the ocean.
After just a few minutes, we have runoff.
Well, those 50 inches have to go somewhere, right. The oceans on our planet have about 352,670,000,000,000,000,000 gallons of water in them, so the long-terms impact of this is nil, but still…
A short distance from us is another runoff that is more focused so it's projecting out into the ocean farther. However, if it's time to swim then it's time to swim, dammit!
There is a little reef out there. Does the runoff slowly descend and cover everything? Do currents quickly whisk the dirt away?
We don't know.
Swimming
On non-rainy days (which is all but that one), we swim.
The ocean here on the west side of the island is remarkably calm and clear, with almost no currents.
Yes, it's just a gratuitous boob shot. Well, that's not quite accurate. "Gratuitous" means "unwarranted." When have boobs ever been unwarranted?
We don't know what the rules are for being at the beach Euro-style, but this place is pretty empty and no one ever complains.
The dark areas near the shore are mostly rocks. However, just a few meters offshore, the dark areas are coral reefs. We see lots a fish including eels and reef squids.
Enjoy even more photographs of Barbados water play!
Rum
Barbados is known for rum, yet there is little to say about it. Rum is for drinking, not talking about.
Rum is made from sugar, mostly sugarcane. We bought the Mount Gay rum based on reputation, and the other two on the advice to two fellows at the grocery store. We found the Diamond Reserve to be the best, and used the other two in cooking.
And that concludes our very abbreviated discussion of Island Living on Barbados as seen through the eyes of two travelers. Come back next time when we look at the many of the plants and animals found in this wonderful place!
awa Travels Tip: Embrace your own child, and come to Barbados. "Every island to a child is a treasure island." ― P.D. James